Are you a Wholesaler? Let's JV!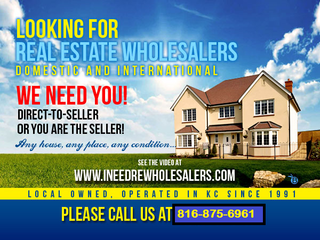 Location:
Need a Buyer?
Are you a Real Estate Wholesaler? Need more buyers?!? I've got them! If you have properties under contract, and would like access to more buyers... I've got a great idea! Let's Joint Venture! You bring the property - I'll bring the buyer - We'll share the profits!
Call me now to discuss... I'm looking forward to it!
Here's a little secret most people don't know about me... 90% of all my wholesale quick flip deals come from JV Partners... Wholesalers just like you. That's right! 90% of my deals are JV deals, sometimes referred to as co-wholesale, or double assignments.
2001 Grand Blvd
Suite 200
Kansas City, MO 64108
View Map
Service Area:
Kansas City Area
Years of Service:
Since 2001
Service Type:
Real Estate
All information in this site is deemed reliable but is not guaranteed and is subject to change